It had rained all night the evening before the race which brought a certain chill into the air. We surely didn't feel like running in that kind of precipitation. Additionally, all three of us were recovering or still feeling the effects of a head cold. Yet the eve of the race was upon us; a race we had been training for the last 4 months. All the hard work…all the time spent. We surely didn't want it to be for naught. The girls had also worked hard finding sponsors to help pay for their trip to CSM (summer student training camp). So we prayed for sun, prayed for strength, for health and determined to brave the elements come what may. God answered and gave us a most beautiful spring day in Brussels.
All six of our team which included 3 other members of SFC-Belgium could feel the almost palpable anticipation in the air as we huddled in a mass of 25,000 people before the Cinquentenaire Arch in the capital city. When the canon shot was fired at precisely 15h00 our adrenalin was already flowing. We divided into two groups of three with my girls and me forming the second string.
We established our pace and moved through the mapped out course passing through the European Commission quarter, by the American Embassy, in front of the Royal Palace, and up to Belgium's Supreme Court Building before entering several tunnels. At the 5k point we were feeling the effects of having to climb out of those tunnels but were spurred on by friends and family cheering and taking photos.
The next 10 km were tolerable. Then the last five were relentless in their attempt to halt us. Yet we were determined. We had set our faces as flint and were going to arrive at that finish line and hopefully within our pre-established goal of less than 3 hours.
Claire and EJ got much encouragement from older runners along the way: "Bravo, les filles!", "Impressive!", "Take courage, you can do it." And in the 19th and last torturous kilometer, we heard over a loud megaphone in french, "Congratulations, young lady in the red shirt, number 11,295. You're almost there!" It was EJ's number they were calling out. And that gave us the punch we needed to pick up speed and arrive through the finish line at 2 hours 47 minutes, well within our goal!
We're sore today but have a super sense of accomplishment. Thanks to all of you who prayed and supported us during our training and the day off the race. This Daddy is mega proud of his 12 and 14 year old daughters! Rendez-vous next May 31 for the following edition of the 20km of Brussels, "the most beautiful race in the heart of Europe".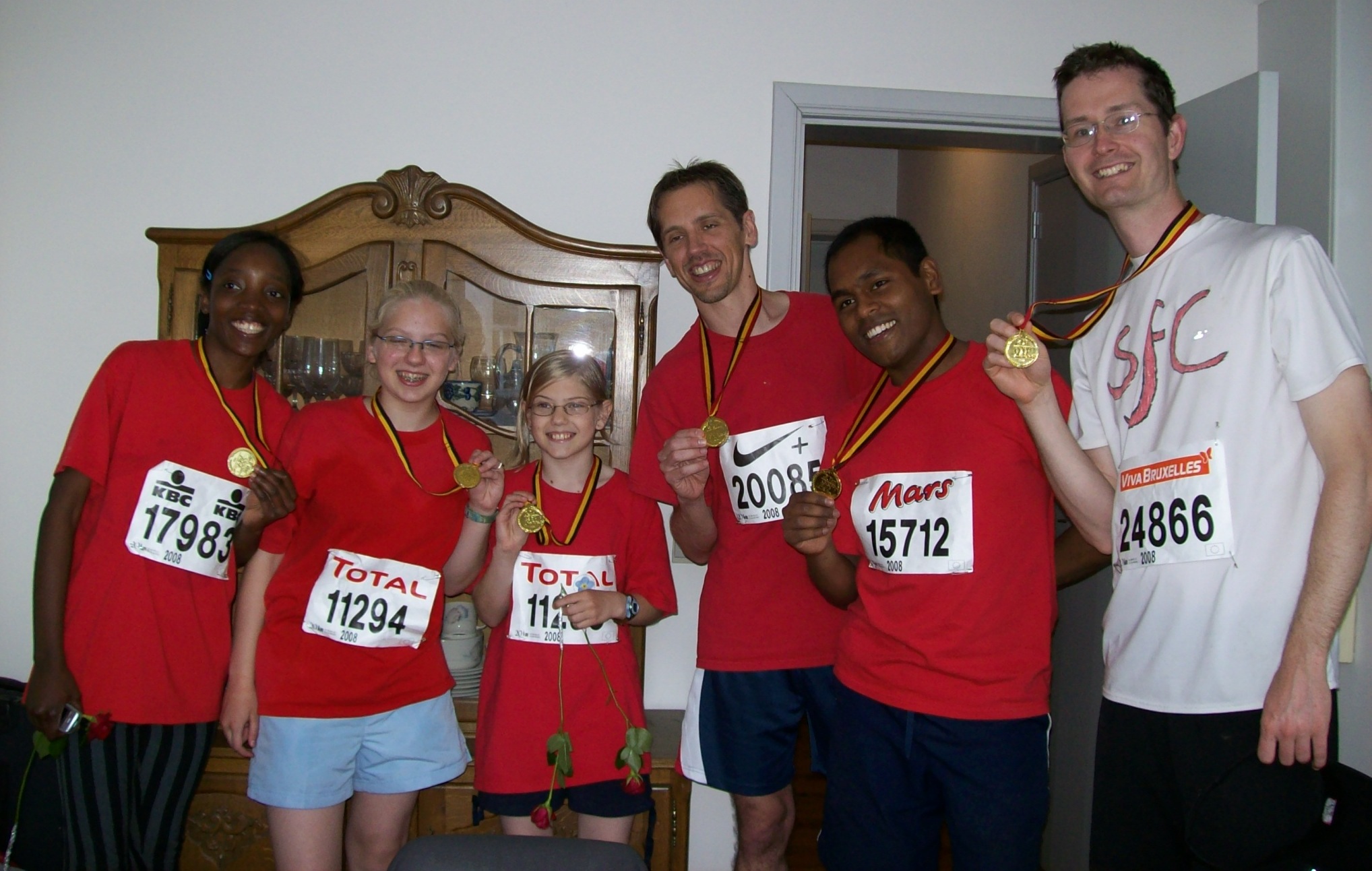 Francoise, Claire, Evangeline, Blair, Davida and Charles
click here for more video clips of Blair, Claire & EJ in the race