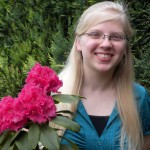 Another home school graduate! Claire will begin university studies through distance education while completing the final year of her 10-year piano diploma from the Belgian Music Academy. Hooray for one more year at home! We are also shouting "Thank you, Lord!" for the academic scholarships she received from Southwestern Assemblies of God University (University scholar), Sonlight homeschool curriculum, and the Assemblies of God Credit Union. We have been so blessed by the opportunity the Lord has given us to educate our children. It has been a 20+ year journey (so far) of learning to lean on God's enabling grace and direction, and as each child reaches adulthood, we are learning a new kind of grace and trust! We are thankful for His help and for many of you who have supported us in our homeschool adventure over the years. Thank you!
In other news, our local church hosts an annual evangelistic Easter Concert. In its 8th edition this year, the local cinema was once again packed to capacity. Claire, Evangeline, Christopher and David were part of the Gospel choir and other acts that communicated the "good news" through song. Check out this clip to a surprise song that Claire opened up for the choir (please excuse the poor quality). How many languages can you name? More concert clips with EJ, Christopher and David can be found here.
The Bonin family served Cornerstone International Church in the greater Brussels area in May during their annual retreat. While Dina and our "fabulous 5" (who are still living at home) oversaw a weekend of ministry to children, Blair had the honor of speaking on the theme, "Refreshed as Family." Here are some of the children with their Joseph crafts.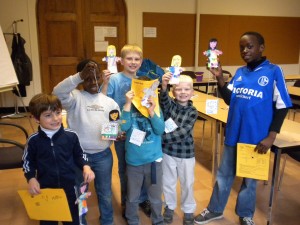 La course de l'année! (The race of the year!), the 20km of Brussels, boasted 35,000 participants the last Sunday of May! Christopher, Blair and good friend Ates took on cobblestone streets, asphalted roads and tunnels, a gradual incline the last three kilometers and emerged victorious at the finish line. (Finishing counts as a victory, right?!)
Uniquely special friendships leave a lasting mark on our lives. Since 2010, due to a job transfer to Belgium, Ates and Blair have met on a regular basis for prayer and mutual encouragement. Their friendship grew steadily to include their families as well. Ates and his wife, Tanja, are both SFC alumni from Germany. During these past two years, none of us imagined that the Erk family would be relocating to Asia this summer – a rather quick promotion for Ates. Although delighted in God's adventure for them, parting sooner than anyone had expected is not the easiest task for kindred spirits. With heavy, but grateful hearts, we commend the Erks to God's care and await the day of future fellowship. Bon voyage Ates & Tanja, Yasar and Silas! We miss you already!