Dear friends,
We have an invited guest writer for this quarter's newsletter! Well, we provided some of the content, but the perspective is presented to you by our daughter and Third-Culture-Kid extraordinaire, Claire Bonin. We hope you appreciate this MK insight into our lives & ministry here in Belgium as much as we do.
Always grateful for your partnership!
Blair & Dina Bonin
The embrace you see me giving that tree in the picture on the left (taken during a family walk in Belgium's bluebell forest) is full of genuine affection. I love the grace of their branches, the smell and feel of their bark, the majesty of the airy cathedrals they form, and the lilt of their chattering and chuckling, singing and sighing leaves that respond ever-eagerly to the wind's prompting. (It's just too bad trees shelter so many insects.)
Spring is my favorite season, in large part because of the change that takes place in the trees. But as thrilling as it's been to witness the color and growth and renewal of the forests and individual trees around me, it's been even more exciting over the past few months to observe the extension of spiritual branches, deepening of spiritual roots, and all around growth that the Lord has been producing here in Belgium and beyond.
As a missionary kid, I don't necessarily see all the hows and whys of the spiritual growth that takes place within the environs of the student ministry and my family's influence. Still, it often happens that the Lord's hand at work is so blatantly obvious that I can enjoy the evident progress of His Kingdom even without seeing the full picture. This spring, there have been many examples of this kind of progress, such as…


…the interdenominational gathering of Christian leaders to strategize concerning the development of faith communities in Wallonia, the French-speaking part of Belgium.
…the celebration of Pentecost during which, as part of the group of volunteers from Assemblies of God churches all over Wallonia, my brother David and I were able to witness and take part in a day of children's ministry that was impressively intentional about teaching kids the meaning and importance of the Holy Spirit and His role in their daily lives.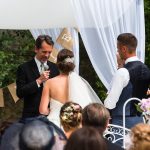 …the wedding of a Belgian couple with whom Dad had the opportunity to share the Good News through pre-marital counseling before their commitment to each other on their wedding day. (Dad also performed the ceremony.)
…the reunion of a visiting Chi Alpha couple with Sébastien, a former Belgian exchange student who spent a semester in Louisiana; this meeting was a blessing that deepened the roots of friendship all around.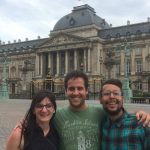 Roots deepened, branches extended, new leaves now joining the rustling song…and with CONNECT (SFC's annual student training conference) drawing ever nearer, I look forward to glimpsing here and there evidence of more such tree-ish Kingdom expansion in the coming weeks.
~Claire Bonin