STUDENTS ENCOUNTERING THE DIVINE

From the crossroads of Europe, Brussels capital,
From industrial Liege and the Borinage of Mons,
From neo-Louvain and agricultural Gembloux,
God's Spirit brought us.

To the thermal city of Spa,
To the Belgian Ardennes,
To the Salvation Army center, where,
God's Spirit met us.

On a havened, forested hillside,
On a wintry run at new day's dawn,
On a snowy walk with friends,
God's Spirit inspired us.

By the warmth of an open fire,
By the light of His Word,
By the knowledge that Emmanuel,
God's Spirit revived us.

With new hunger for things spiritual,
With connection amongst THE Family,
With a fresh challenge to seek Him,
God's Spirit fed us.

During moments of liberating worship,
During instants of effectual prayer,
During flashes of healing laughter,
God's Spirit animated us.

In the sweetness of Presence,
In the thunder of Commandment,
In surety and in confidence,
God's Spirit commissioned us…to be His sent ones.
These were some of the highlights of the yearly Students for Christ-Belgium retreat. Hoping you'll be able to understand them poetically, although you may not have been there. -Blair
Here is Blair with Bryan & Hélène Ost, the invited speakers for the weekend. Some of you may remember us spending the summer of 1990 helping in a church in Paris. It was Bryan's parents, Mark and Denise, who hosted us. It is exciting to see how God is now using Bryan in music ministry and in the city of Dieppe, France, where they pastor a church.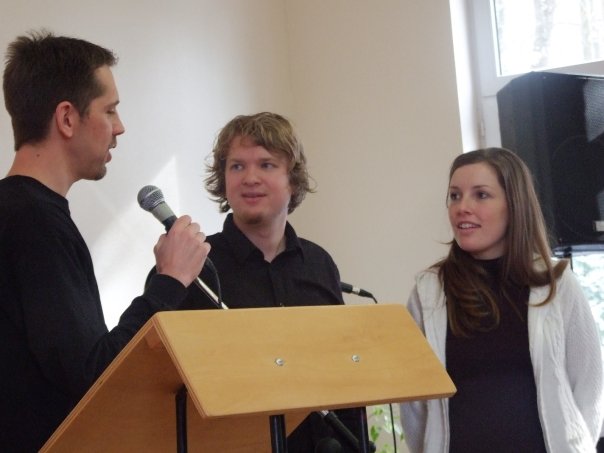 The Annual Group Photo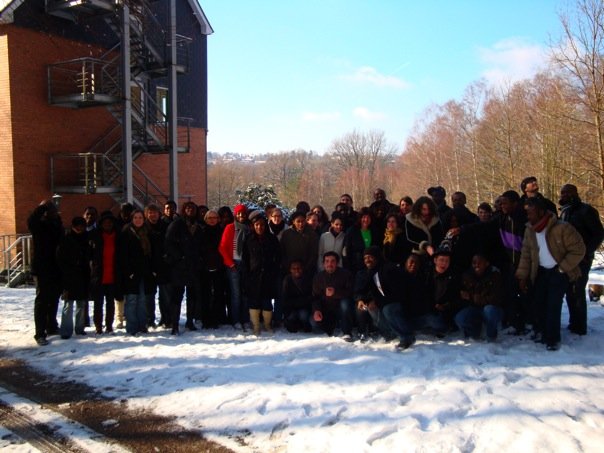 More photos in the GALLERY